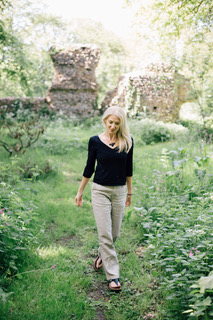 Rosie Andersen - Photograph Nick Ilott
I feel very fortunate to live in a lovely area of this beautiful County of Suffolk which is full of history, delightful scenery and bristling with a remarkable array of wildlife. 
The Suffolk coast is famous for its shape-shifting shoreline that gives rise to a feeling of constant change and impermanence.  Inland Suffolk contains numerous picturesque villages that nestle within a gently undulating landscape crossing which, are many rivers, streams and ditches.  Abbo, the chronicler of Saint Edmund described East Anglia as a 'water-girdled' land.
My passion is walking and being out in the countryside.  I love to explore the footpaths, the holloways and the old hedge and tree lined tracks of times past that would have connected the villages and churches.  I'm often scouring the Ordnance Survey maps in search of old lanes, moats, ridges and 'grindles', on the look-out for new areas to explore and spot intriguing place, lane and track names that give clues to Suffolk's fascinating past.  The County which is known as 'Selig Suffolk' (meaning 'sacred'),  is also full of enchanting medieval churches, so you are never too far from history and the mysteries of former times where our imaginations can flourish.
'Songs of the Trees' has grown out of the many journeys I have made within this gentle county; from visiting mysterious places and ancient churches to observations within the woods; of wildlife and of walking in nature.
Being in nature can lift our spirits and is now promoted as a recognised way of dealing with worry, anxiety and depression. The character Aelfwynn loves to visit woods and trees because it makes her feel better. Her walk, her journey, becomes a metaphor for life and contains the mythical Jack-in-the-Green or the Green man who in this story can represent our relationship with nature/God/the Divine. Aelfwynn finds herself walking into a labyrinth and there she meets four trees who impart their gifts to her in the form of values/characteristics that will help her heal her sadness.
I hope you enjoy reading 'Songs of the Trees' as much as I have enjoyed writing it. I hope too you will immerse yourself in the extraordinary illustrations by Paul Jackson to whom I am enormously grateful for both his outstanding talent and creativity but also our enriching collaboration. From that first moment two years ago, nervously reading the story to Paul in a cafe in Norwich, gauging his reaction, and to his making a start on the first illustration, I knew that Aelfwynn was in safe hands. Paul understood exactly what I was trying to portray through the symbology and metaphor of Aelfwynn's journey into the woods and labyrinth - he just 'got it!'  
The illustrations themselves are a journey too.   Look very carefully ………… you will be amazed at what you find!